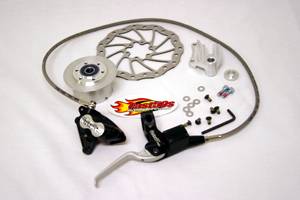 Click on image to zoom
Magura Front Disk Brake for Stock Forks Honda 50's
Magura Front Disk Brake for Stock Forks
Description
Magura Front Disk Brake System (Hydraulic Steel Braided Line) For stock Forks!!

(Please note this item is up for informational purposes only right now, We are working on getting another brake kit together just like this with an alternate caliper since Magura does not make the Gustav unit anymore)

If you're looking for Front Disk Brakes for Fast50s Speed Forks see DBK25000-F-SF!!

Fits the Honda xr/crf50

All Hardware needed for assembly with stock fork tubes and stock dimension type hubs. For example stock hubs, Fast50s billet hubs, or Fast50s billet wheels.

This disk set up is like no other. The system uses Magura's hydraulic race system. It has a braided "stainless steel" brake line.
Shipping Information
Item Requires Shipping
2.0 lbs.
---
FAST Shipping

We ship out items quickly! International Shipping available

Safe & Secure

Worry-free Online Shopping

Online e-tailer

We've been in business since 1999

Largest Mini Bike Parts Selection

Best Quality Made Parts Available