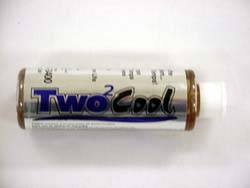 Click on image to zoom
Two2Cool Engine Oil Treatment (All Bikes)
Two2Cool Engine Oil Treatment, Two Cool, 2 cool, Two 2 Cool, too cool, Oil coolant, Fast50s
Two2Cool Oil Treatment for all bikes!
Description
Two2Cool Engine Oil Treatment

Two2Cool Oil Additive is the only oil additive that delivers the best defense against the harshest enemy of oil lubricated engines "HEAT".
Re-formulated in 2008 with the latest chemicals & advanced engineering is providing a reduction of temperature from 20-75 degrees. (Sounds crazy right?)
It works by chemically bonding to metal parts that are creating heat from friction and cools those vital engine parts and reducing friction.

Using the Two2Cool's proprietary oil additive creates more horsepower at the end of the race, and protects vital engine parts providing longer service intervals. Used by factory teams quietly for over 5 years! This secret squirrel info is now out and available to everyone.

The "only choice" for engine protection in modern carbureted, fuel injected, turbocharged and supercharged Gas or Diesel Engines, Transmissions and Differentials will benefit from this.

You can NOT afford NOT to add this additive to your oil and protect your bike from heat!
The cost of repairing engines due to overheating is much more than preventing it to begin with by just adding 2 oz. per quart to your oil.

What Two2Cool does:
Instantly drops engine oil temps, 40 to 60 degrees
Safe for all 2 and 4 stroke applications
Dyno proven HP increases (1.3 hp gain on a KTM 50cc Mini)
Contains no friction modifiers (Moly, Teflon, or silicone) and is safe for all clutches
Significantly reduces heat / wear
Increases the life of all oil related parts
Has no residual effects, empties out with every oil change
Compatible with all engine oil
Add 2 oz. per Quart of engine oil
Saves on expensive repairs

If you have any questions please call one of our knowledgeable and friendly techs at 833-327-8507

Shipping Information
Item Requires Shipping
2.0 lbs.
Customer Reviews
Total Reviews (0)
You must login to post a review.
---
---
FAST Shipping

We ship out items quickly! International Shipping available

Safe & Secure

Worry-free Online Shopping

Online e-tailer

We've been in business since 1999

Largest Mini Bike Parts Selection

Best Quality Made Parts Available