Fast50s -
Honda XR70R - CRF70F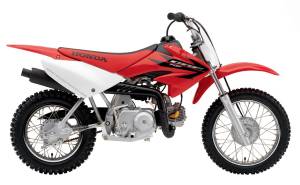 Looking for quality Minibike parts?
Get your Honda XR70 and CRF70 parts right here with the Original Minibike Specialists!
Fast50s™
parts are
MADE IN THE USA
We ship in the U.S. and Worldwide!
Select a Sub-Category
---
---
More About
Honda XR70R - CRF70F 
Like all Honda's off-road fun bikes the CRF70 is built to build confidence, and like the CRF50F it features the same durable engine, three-speed semi-automatic transmission (no clutch to worry about) and smooth power, so it feels right and rides right. And best of all, the CRF70F is built to last, so you and the kids can concentrate on building skills and having fun rather than worrying about repairs.

This bike is Awesome, but am I hearing it right that you want it BETTER!?? You're at the right site! We have THE BEST parts made for minibikes. Look no further!

Fast50s™ parts are MADE IN THE USA and proud of it!! Fast50s™ offers durable quality mini bike parts that withstand the abuse of fun AND performance! Spending a little extra for a quality part, will go a long way!