Fast50s -
Honda Z50R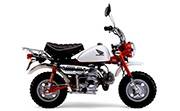 Fast50s
SPECIALIZES IN HONDA Z50 PARTS!
We ship in the U.S. and Worldwide!
---
---
More About
Honda Z50R
The Honda Z-Series refers to the lineage of mini bikes manufactured by Honda Motorcycles. Though Honda's official model designations are typically Z50A, Z50J, Z50M, Z50R and ZB50, they are more commonly referred to as the "Monkey" or "Gorilla" because of the way people are said to look when riding one of such bikes. Sales of the bike began in March 1964 with the Z50M model.

Most Z-series bikes are small, light, collapsible motorcycles made for convenience and ease of transportation. Their outstanding feature is a 50 cc four-stroke engine with an over head camshaft. Some have a centrifugal clutch and three gear manual transmission, while others have a three-speed semi-automatic easy-shift transmission for learners.

The original model of the Honda Z-series was originally produced as a children's ride at a Japanese amusement park, but was eventually refined and put into mass production, hitting the European market in 1967. Since then Honda has produced a wide variety of Honda Z-series mini bikes, with annual model updates still in effect. Starting from 2008, the well-known 50 cc engine will be adapted and fitted with an injection kit instead of carburetor. Today, cheaper replica versions of this bike are being manufactured in China.

Fast50s has what you're looking for to beef up, fix or style your Honda z50! Gallons of knowledge right here in this company! Call us and you'll see!